Products For Yahoo! Stores
Expand your business
with these fresh new features!
Solid Cactus and our developers have been hard at work creating fresh features to grow your Yahoo! Store. These innovative features will highlight your products, reduce cart abandonment, increase order size and more!
Save the sale
In-Stock Notification
for Yahoo! Stores

Perfect for getting customers back to your store, this custom feature is placed on a product page to allow customers to leave their email address so they are automatically notified as soon as the product is back in stock.
Basic In-Stock Notification
one-time installation fee to match your site
Custom In-Stock Notification
one-time installation fee plus designed item page and email template
*A $9.99 monthly fee applies to both options.
Increase order size
Impulse Buy
for Yahoo! Stores

This convenient new feature allows for the easy addition of accessories to the main product being purchased. A featured accessory item will be shown right in the product information table, so customers can easily add all items with only one click.
Impulse Buy
one-time installation fee
Make comparing simple
Product Comparison
for Yahoo! Stores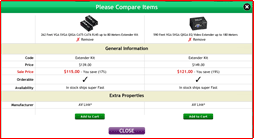 Going back and forth between product pages in order to compare similar products is inconvenient and adds too many extra steps. Make it simple for your customers to find what they want, and get to the checkout faster.
Product Comparison
includes design and programming